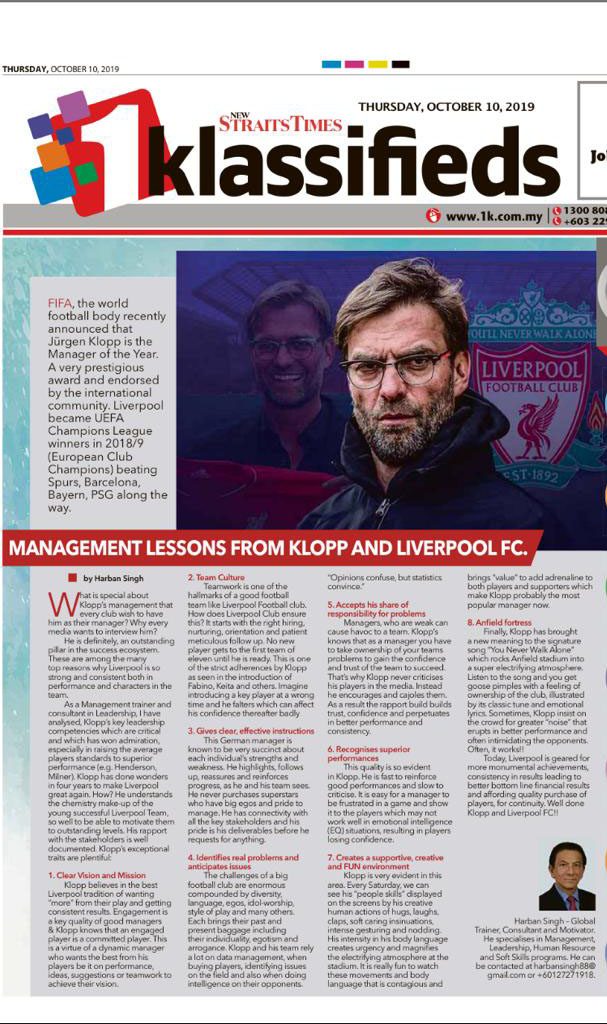 Management Lessons from Klopp and Liverpool FC.
FIFA, the world football body recently announced that Jürgen Klopp is the Manager of the year. A very prestigious award and endorsed by the international community. Liverpool became UEFA Champions League winners in 2018/9 (European Club Champions) beating Spurs, Barcelona, Bayern, PSG along the way.
What is special about Klopp's management that every club wish to have him as their manager? Why every media wants to interview him?
He is definitely, an outstanding pillar in the success ecosystem. These are among the many top reasons why Liverpool is so strong and consistent both in performance and characters in the team.
As a Management trainer and consultant in Leadership, I have analysed, Klopp's key leadership competencies which are critical and which has won admiration, especially in raising the average players standards to superior performance (e.g. Henderson, Milner). Klopp has done wonders in four years to make Liverpool great again. How? He understands the chemistry make-up of the young successful Liverpool Team, so well to be able to motivate them to outstanding levels. His rapport with the stakeholders is well documented. Klopp's exceptional traits are plentiful:
Clear Vision and Mission
Klopp believes in the best Liverpool tradition of wanting "more" from their play and getting consistent results. Engagement is a key quality of good managers & Klopp knows that an engaged player is a committed player. This is a virtue of a dynamic manager who wants the best from his players be it on performance, ideas, suggestions or teamwork to achieve their vision.
Team Culture.
Teamwork is one of the hallmarks of a good football team like Liverpool Football club. How does Liverpool Club ensure this? It starts with the right hiring, nurturing, orientation and patient meticulous follow up. No new player gets to the first team of eleven until he is ready. This is one of the strict adherences by Klopp as seen in the introduction of Fabino, Keita and others. Imagine introducing a key player at a wrong time and he falters which can affect his confidence thereafter badly
Gives clear, effective instructions.
This German Manager is known to be very succinct about each individual's strengths and weakness. He highlights, follows up, reassures and reinforces progress, as he and his team sees. He never purchases superstars who have big egos and pride to manage. He has connectivity with all the key stakeholders and his pride is his deliverables before he requests for anything.
Identifies real problems and anticipates issues.
The challenges of a big football club are enormous compounded by diversity, language, egos, idol-worship, style of play and many others. Each brings their past and present baggage including their individuality, egotism and arrogance. Klopp and his team rely a lot on data management, when buying players, identifying issues on the field and also when doing intelligence on their opponents. "Opinions confuse, but statistics convince."
Accepts his share of responsibility for problems.
Managers, who are weak can cause havoc to a team. Klopp's knows that as a manager you have to take ownership of your teams problems to gain the confidence and trust of the team to succeed. That's why Klopp never criticizes his players in the media. Instead he encourages and cajoles them. As a result the rapport build builds trust, confidence and perpetuates in better performance and consistency.
Recognizes superior performances
This quality is so evident in Klopp. He is fast to reinforce good performances and slow to criticize. It is easy for a manager to be frustrated in a game and show it to the players which may not work well in emotional intelligence (EQ) situations, resulting in players losing confidence.
Creates a supportive, creative and FUN environment.
Klopp is very evident in this area. Every Saturday, we can see his "people skills" displayed on the screens by his creative human actions of hugs, laughs, claps, soft caring insinuations, intense gesturing and nodding. His intensity in his body language creates urgency and magnifies the electrifying atmosphere at the stadium. It is really fun to watch these movements and body language that is contagious and brings "value" to add adrenaline to both players and supporters which make Klopp probably the most popular manager now.
Anfield fortress.
Finally, Klopp has brought a new meaning to the signature song "You Never Walk Alone" which rocks Anfield stadium into a super electrifying atmosphere. Listen to the song and you get goose pimples with a feeling of ownership of the club, illustrated by its classic tune and emotional lyrics. Sometimes, Klopp insist on the crowd for greater "noise" that erupts in better performance and often intimidating the opponents. Often, it works!!
Today, Liverpool is geared for more monumental achievements, consistency in results leading to better bottom line financial results and affording quality purchase of players, for continuity. Well done Klopp and Liverpool FC!!
Harban Singh – Global Trainer, Consultant and Motivator. He specializes in Management, Leadership, Human Resource and Soft Skills programs. He can be contacted at harbansingh88@gmail.com or +60127271918